About

Homespun Software
Homespun Software™ began releasing products in the spring of 1997 with the desire to provide easy to use programs enabling even the most casual computer users to create charming pages with a handcrafted look.

Homespun Software™ is a division of Beacon Corporation.
Software © Data Solutions America, Inc. Artwork © Azadi™, Inc. All rights reserved.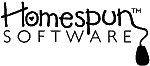 Home - Products - About Homespun - Gallery - E-Mail